Archive for December, 2004
Those of you that know me also know that my last PT Cruiser had been a mechanical nightmare. In less than two years I had the rack and pinion replaced, a strut problem and a smoldering engine problem. Not to mention the countless other little things that will likely make me never buy a Chrysler again–including the crappy service I received from Larry Reid's Chrysler. Their service manager even had the gall to basically call me a liar. Their GM never returned my calls. Well no more.
I am now the proud owner of an 2002 Acura RL 3.5
Here are some of the dealer photos: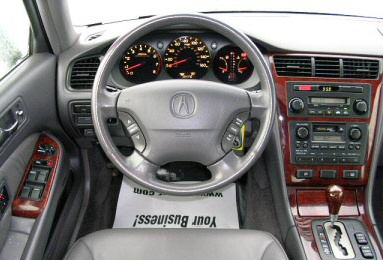 Click to enlarge.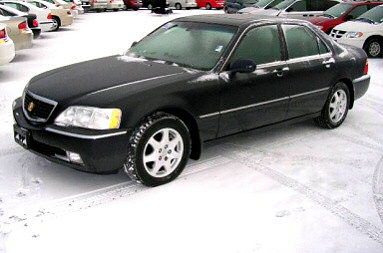 Click to enlarge.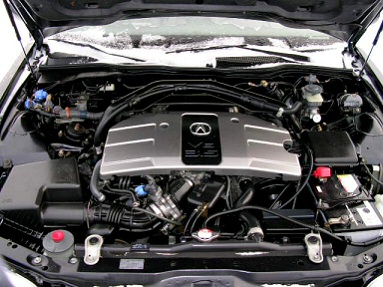 Click to enlarge.
With Heather's connections I was able to shop Walser's online used car lot and purchase this vehicle. I told Heather, "You must be the best sales rep they've ever had the pleasure of working with." because both John Fleek and their F&I manager Deb treated me like royalty. What a joy to work with them both! I bought it Monday. We finalized the deal yesterday. I thanked Heather profusely.
Man, this car has it all. Electric/Power everything. It's automagically delicious. I even signed up for On-Star to try it out for a couple of months. I don't deserve it–but I certainly love it!
2 comments
Well, I didn't end up buying the PC Tape Deck from ThinkGeek after all (Though it is still tempting). A couple of months ago I did purchase something called an iMic from buy.com. At $35 it is quite the bargain compared to the built in tape deck for your PC.
Like the cassette deck from ThinkGeek, the iMic allows you to import analogue to your PC and reformat the file into any type of sound file. It works on a PC or a Macintosh and has a freeware recording program for the Mac and a shareware trial version of Cool Edit for the PC. The trial version of Cool Edit is nice but I'll probably end up using Audacity with it on my PC. With Cool Edit 2000 you can "zoom" in on your sine wave and delete clicks and pops you might pick up on LPs and whatnot. Trouble is, with the trial version you are only allowed to use two features at a time when working with your files. It also only allows you to save your work for 30 days. Then no more Cool Edit unless you pay. Audacity allows all this also but has additional functionality for tracking a specific pattern in a sine wave and eliminating it throughout your sample. Audacity is also a freeware program.
The advantage of an external microphone on your PC is that you eliminate much of the EMI associated with recording on a PC. Often if you use just the miniplug on the back of your system, you will pick up electro-magnetic interference from all of the electronics running in your computer. With the iMic this is eliminated because it is a good 12″ to 14″ away from your computer.
Here's how it works: Basically, you plug in RCAs using the provided adapter and then run it back to your stereo… just like it was a component. You then can record sound from ANY analogue (or digital converted to analogue) device you want.
I've imported an old Christmas album, two 12″ singles and the entire LP. Last night I imported a virgin vinyl (never been opened) copy of "Folk of the '80s (Part III)" by Men Without Hats. I recorded them at 48000 KHz, then boosted the amplification on the album by about a decibel, made master CDs, converted them to 128 bit AAC and now have all of these goodies on my iPod. It truly is amazing.
2 comments
Christmas is coming
The goose is getting fat
Please to put a penny in the old man's hat
There are only three days left until Christmas. We've done so much to this house I can't even describe. Tomorrow the Chimney sweep comes to clean the chimney out and check it to make sure everything is AOK. Then I have to either split some wood or buy some. There is plenty in the backyard. I just need an axe.
We've replaced nearly every light fixture and outlet in the house. Almost every wall has been painted. I did a knockdown/orange peel style texture on the dining room and entryway walls. I've fixed toilets and walls. I've painted and scrubbed. And still I'm not done. The worst is yet to come. Tonight I will clean out the "Junk Room". This is the corner room in the house that became the catch-all for everything without a place. Most of it is my stuff–so it's my job. Wee! But it will be a nice spare bedroom when all is done.
I purchased a bunch of liquor today and two more light fixtures. Not a good mix I know. But the liquor is for the family Christmas Eve gathering we're hosting on Friday. I got some favorites covered for Heather's uncle Tom and uncle Matt and I've got red and white wine for the wine drinkers. Now all I need is to get the beer–and maybe some Tom and Jerry mix.
The football game starts at 2:00 so I'm not sure how that will play into our afternoon plans–but I may have to ask Heather to bump our start time up or we may have some no-shows until after the game.
The dart board is primed.
Tron is a go.
Let's get this Christmas jumpin'
HO HO HO!
No comments