Archive for February, 2007
For Valentine's Day I ordered a special gift for my hunny. They arrived in tuxedos and sequin vests at her place of business a little before 10am this morning…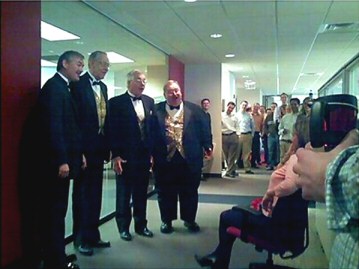 click photo to enlarge
A singing telegram! (Note the lovely shades of red in Heather's face) They gave her chocolates and a card from me and sang her two songs. The whole office appeared to enjoy it thoroughly–although I'm not so sure my wife wanted the attention. She called me up and the first words out of her mouth were, "I'm gonna kill you." 🙂 And then she started laughing. So I think the threat was idle. I think. We'll find out when we have our annual seafood dinner tonight.
1 comment
This morning I was driving to the post office to drop a package off and noticed a halo around the sun. I've seen these before but I never have actually captured any on "film" until today. I've taken to carrying my camera with me wherever I go which is really fun because when these types of events happen I'm there like Jimmy Olsen on a Superman sighting.
Here are the three photos I took this morning. I enhanced the first one to better demonstrate the beauty of the rainbow effect that accompanies this phenomenon.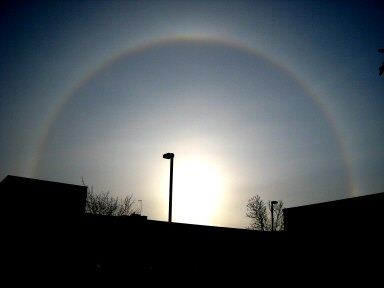 Click to Enlarge

Click to Enlarge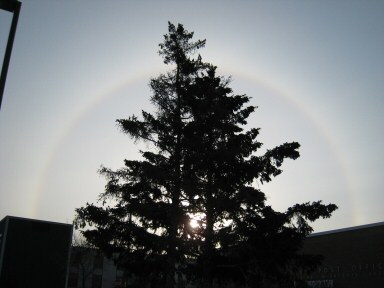 Click to Enlarge
The name of this fantastic sight varies. They are simply called '
halos
'. Some people refer to them as Icebows and yet others call it an ice-halo. Their names are all appropriate. This optical effect is caused by ice crystals in very cold cirrus clouds located in the upper troposphere. The light refracting off of these clouds creates the effect. Sometimes the halo is accompanied by Sun Dogs (also know as parhelia). Sun Dogs are bright pillars or splotches of light that appear on either side of the sun. I did not see any this morning–but this was still cool.
9 comments