Archive for June, 2004
Matt Sparby has been asking me for this little tidbit for a few days now. Well, it's rather embarrasing but I'm going to post it on the front page anyway. Yes, when Matt and I were VERY young. Ok, well–younger. Alright… we were in Highschool… We… What am I saying? We still go to conventions. Though these outfits don't fit us anymore, given the chance we'd be stupid enough to do it again–and we'd have fun!
Eat your heart out, Wil Wheaton.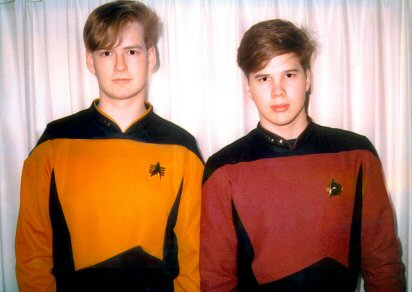 Matt Sparby and Adam Kooyer circa 1991 in Matt's mom's living room in Lakeville before "TrekFest" with Jonathan Frakes
4 comments
Let me start by saying I'm pleased Star Wars will be coming to DVD. However, everything that I've read on the new DVD trilogy that will be released September 21, 2004 is not all that pleasing. Though at long last we will have Star Wars on DVD it will only be the special editions. Lucas will not release the original theatrical cuts to DVD. I'm not terribly disappointed as I still have the originals on Laserdisc and the quality is pretty good considering the source. I also think it's a bit short-sighted of Lucas to not release them along with the special editions–as Spielberg did with both versions of E.T.
Recently I sold a large chunk of my Star Wars collection to a local retailer. The original value of the collection based on original retail pricing was well over $600-$700. I walked away with 4 NES games and $125. I gained a cleaner front porch. Granted, most of these were 1995 Orange Card, Shadows of the Empire, Reissues–but it was somewhat disheartening. In addition, I also visited both Toys R Us and Kay Bee Toys recently. On my way back to visit the Transformers reissue section, I spotted the Star Wars figures section. The section was vacant of people but loaded with Star Wars figures. All of them were on clearance–even the cool characters. I only remember seeing prices that low for Star Wars figures one other time. It was about 1984 at Children's Palace in Burnsville, MN. There were only two characters left in the store–the raisin-headed skiff-guard and some other character that no one remembered from Return of the Jedi. Both of which in the package are probably worth more than my entire current collection–which my nephew will soon be inheriting for his seventh birthday. At least he will enjoy them.
Why do we clutch to the original films so dearly? I'm not sure I can explain it. Except that when I was five and saw Star Wars it left a lasting impression on me. So much so that when it was released to Beta and VHS we had to have a copy of it… And we played it over and over again. I remember one kid that was profiled on PM Magazine in the 80s, claiming he'd seen it 21 times. Of course, I claimed to have seen at least that many times and possibly 3 or 4 more. The point is, we grew to expect something that reminded us of our childhood… and it was eventually changed. I liken it to Picasso coming back to all of his paintings 10 years later and saying, "You know, Magenta wasn't available when I was painting all of my paintings–I think I'm going to add that color to all of them. In fact, I don't like blue anymore so I'm going to remove that too." You just don't mess with art once it's done. Lucas' opinion is that Star Wars as it was released to the public in 1977 was a 'working print' and that he was able to complete it at long last. Well, alright. He did create it after all. But I'd still like to see the originals too–from an artisitc point of view at the very least. It was brilliant for 1977–and still is today!
In a weak attempt to petition an eventual release of the originals I signed an online petition today to add my name to the thousands of fans that would like to see the originals on DVD. Alas, these efforts are usually fruitless and tend merely to placate die-hard fans rather than get the job done. Nonetheless, I've put a link on my navigation bar for those of you who read my stuff to the site that is trying so hard to bring the originals back in a current media format.
—
I still think Rob Noyes said it best in this article: http://www.spatch.net/frontpage.cgi?entry=112203
No comments
Well, Heather, Ben and Noah and I went to Grand Ol' Day today. Before we set out we played some NES and had a drink at my bar. Once we arrived, it was a lot of walking and expensive food. The weather was beautiful. I bought a footlong hotdog. I can still feel it burning in my chest. But it tasted good. We walked around for a couple of hours basking in the sun and the 80 degree weather just people watching. I sunburned my neck–and my nose. Heather is a little pink too. On the way back we stopped at DQ and I got a lemon/lime Mr. Misty Float, Heather a mint blizzard, Noah a vanilla cone and ben a Hot Fudge Sundae with peanuts. Yum yum. By the way, if you EVER go to Grand Ol' Day always wait to buy food at Kowalski's market. They had the best deals on food and water by far. Yum! Thanks Kowalski's! Overall it was fun–but it's not exactly my bag. Next weekend I wanna go to Valley Fair. BAD. Anyone who want to go is welcome. Let's make a date of it!
4 comments