Archive for February, 2006

Last night Heather and I went out to dinner with our friends Chrissy and Justin. We wanted Italian but we wanted to go to someplace we've never been. We ended up choosing Amore Victoria in Uptown.
I called them Sunday afternoon to make reservations. I first asked about the cuisine and then asked about their price range. The average entree price is between $15 and $18 dollars. The woman on the phone was very polite and so we thought we'd make a go of it.
So we drove out there. It took us about 15 minutes to arrive at the restaurant. It turns out that Amore Victoria occupies the same space that the second Giorgio used to.
We walked into a beautifully set restaurant… complete with Italian decor and a charming bistro quality. There were booths and tables spaced evenly throughout the room. You get the impression of being in cozy dining room of a good friend. It was low lit but not so low you couldn't see your food. The ambiance immediately got a 5 out of 5 stars upon entering.
Next, we were seated. If you can avoid it during the winter–stay away from the windows. They're cold. We moved to another table however and everything was grand. Wood floors and warm wood furniture only adds to the room's character.
We were served warm bread and given a list of wines that were half off for the evening. We sampled a lovely white wine but decided on Candony–a Chianti that turned out to be divine. For dinner Chrissy sampled the Fettuccini Alfredo, Heather and Justin tried the Agnolotti alla Lobster & Shrimp–a lobster filled ravioli, jumbo shrimp and crab meat sautéed in brandy, cream and Romano. I tried the Veal Picatta–a succulent dish with tender slices of veal dipped in an herb batter then sautéed in a white wine and lemon sauce smothered with capers and artichoke hearts served on a bed of pasta. Later I ordered the Tiramisu which despite being free of rum was wonderful—a bonus for those who like to avoid alcohol completely. Additionally, they make a great cup of after dinner French roast–if you're into coffee after dinner.
It was simply amazing. The service was fantastic and friendly too. No one had any complaints about the restaurant–save my chilly episode with the window. After some conversation we did discover this is indeed of the same family that runs three other Victoria's restaurants—two in Wisconsin and two here in Minnesota. Though, this is the only one that sports the 'Amore' before the 'Victoria'. I've dined at two of the four now. I've taken in meals at the one in Rochester and of course this delightful location! The other two have been sampled by our Wisconsin native and friend who accompanied us on the night's adventure: Justin! He too had nothing but praise for his previous experiences. Each restaurant has family recipes as well as their own recipes to make each individual experience at each restaurant unusual.
Since I live closer to Amore Victoria in Uptown–I'm sure I'll be back to this location more often than not.
2 comments
This is from 'The Essential Calvin and Hobbes' book my mom gave me a long time ago…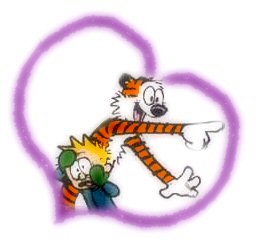 Click to read.
It's a rather large image to read and many browsers will automatically resize the graphic. But if you click on it in Firefox it will allow you to see it full size. I think in IE you right click the image and tell it to display full size. Hope that helps.
1 comment
I've been having some trouble with my cheap DVD burner that I bought from NewEgg a year ago. It wouldn't burn DVDs at slower speeds than the advertised media and it seemed to screw up a bunch of my DVDs. So until 10 minutes ago I had a Sony DVD RW DW-D22A DVD Rom Drive.
What happened?
It turns out that Sony rebrands LiteOn drives. The model I have was the same as a LiteOn S0HW-1633S. It also turns out you can flash it with a newer firmware: http://codeguys.rpc1.org/firmwares.html#SOHW-1653S To make it an even NEWER drive that supports 12x burning.
I did it. It's working. Good thing the drive was only $39 on sale.
3 comments