Archive for January, 2007
Yesterday Game Crazy called and said my Wii had come in. I decided I would take my lunch and go pick it up. When I got home around 5:30 I ran to the basement like a 13-Year-Old kid and quickly began unboxing the Wii. Within minutes I had it set up with the sensor bar on top of our 50″ DLP TV. I also purchased Elebits but never made it passed WiiSports. Although I've played the WiiSports at MicroCenter and Adam V's house, I really enjoyed playing it in the comfort of my own home. So maybe I'll get to Elebits later this week.
The Wii is fantastic! (As many of you who have them already know) I had a lot of fun creating my own Mii. When I finally coaxed Heather down to play the Wii she also enjoyed setting up her own Mii. Miis are the characters you use when you play different games. They are also portable. You can transfer your Mii to the WiiMote and take them to friend's houses to play your character at their home.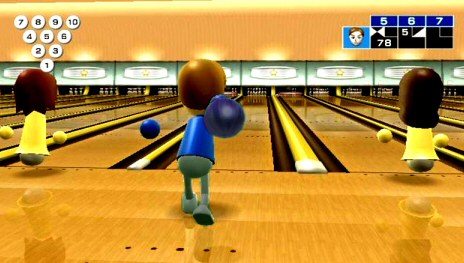 I can't wait until Wii Play comes out on the 12th. It comes with an extra WiiMote and several new sports type games including Pool, Ping Pong and Duck Hunt.
4 comments
Or four or five or six of your best friends… or at least co-workers. Last weekend Heather and I went to her company's Holiday party. They call it the 'Annual Winter Ball'. It's held at the top of the IDS center in Minneapolis on the 50th floor and catered by the restaurant called Windows. Our friends Chrissy and Justin joined us and we all had a fabulous time. I don't have much to report except that the food was fantastic and the company even better. We dined and danced and then went home! The photo above is a rare opportunity to see us all gussied up.
7 comments
In addition to many 12″ singles I've been digitally importing off of vinyl, I've now begun work on importing my collection of American Top 40 records. These are records that were distributed to radio stations across the entire U.S. (and our boys over seas) during the 1980s and 1990s. They star Casey Kasem as the host and I even have a couple from his brief replacement in the very late 80s: Shadoe Stevens. 99% of my collection is on LPs but I do have one Shadoe episode from 1989 on CD. Currently I'm working on a show from March 28th of 1987 with Kasem as host. I'm importing it with Audacity and cleaning up the pops and clicks and boosting the gain. All of them will be remastered in 32 bit and then converted to AAC format so I can listen to them on my ipod. Many of these records include the commercials from the era as well: Oxy 10, Double Mint commercials (with Richard Marx singing the jingle before he was popular), Gingiss formal wear (complete with public service announcement for prom), Nestle and even Flintstones vitamins. Of course their is the long distance dedication and commentary on various artists and their influences in the industry. This particular set of AT40 is neat because it has information about U2's Joshua Tree and their explosion into the mainstream radio audiences. It also includes information of Prince's "Sign O' the Times" and Madonna's latest release at the time.
There are several hundred AT40 enthusiasts out there and many of them have been archiving these shows for years. The problem is people like to charge an arm and a leg for the remasters. So I've taken it upon myself to clean up, remaster and distribute them to myself. How else can I maintain my status as "Number one man trapped in the 80s"? I do listen to modern music too, ya know. These shows just have a special place in my ear.
Star Trek Geeks might appreciate the AT40 episode that was completely hosted by members of Star Trek: The Next Generation in 1987. I have yet to get my hands on that show but I will.
Wouldn't it be fun to have Casey Kasem doing a show at the first Annual "Heather and Adam's 80s Party"?
I think it would.
Highlights from this March '87 show include:
Somewhere Out There from the Don Bluth Animated film American Tail.
Bruce Willis' "Respect Yourself"
Long distance dedication #1: Hip to be Square – Huey Lewis and the News
Top 5:
5.Mandolin Rain – Bruce Hornsby and the Range
4.Tonight, Tonight, Tonight – Genesis
LDD #2: Against All Odds – Phil Collins
3. Let's Wait Awhile – Janet Jackson
2. Nothing's Gonna Stop Us Now – Starship
1. Lean on Me – Club Nouveau
4 comments