Tonight I imported a little known B-Side track off of a single released by Michael Damian in 1989. Damian did a remake of "Rock On" which was featured in the film "Dream a Little Dream". The B-Side track, "Where is She?" performed by "Blue Future" was also featured in the film but NOT on the soundtrack. Strangely, it sounds as if the vocals are Michael Damian's. I have not been able to confirm that, nor have I found any information on a band by that name. However, I found the out-of-print 45 a few years ago and tonight I made it possible for me to listen to the track on my iPod by importing it to my computer. I even went so far as to remove a few pops and clicks from the track. Considering the source, I'm very happy with how it turned out. I then created some album art for it: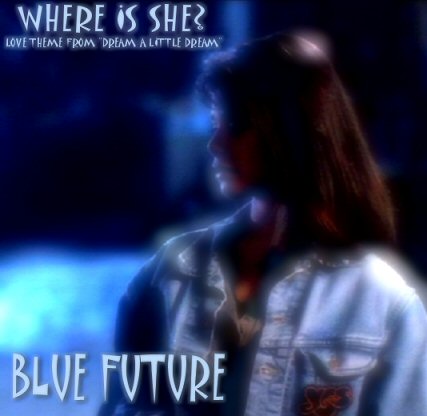 UPDATE: 4/17/2007
I wrote to Larry Weir, the writer of this track! He responded to my email. Here is the email exchange and the official details of the track:
—–Original Message—–
From: Adam
Sent: Wednesday, April 11, 2007 1:28 PM
To: Larry
Subject: Blue Future

Hello Larry,

I just wanted to drop you a line because some time ago I transfered a copy of the song "Where is She?" by "Blue Future" to my computer from a 45. Then I blogged about it–which probably wasn't the brightest thing I've ever done as I regularly receive requests for the song over a year later.

I basically have three things to talk about.

1. I'd like to take the time to thank you for writing such a beautiful song. As many artists sometimes don't appreciate their own work, feel like it wasn't finished or it may have been rushed–I think it's important for you to hear that many kids who grew up in the 80s and watched "Dream a Little Dream" really enjoyed this track. So from all of us to all of you–thanks!

2. Who is Blue Future? Was it all studio musicians? Did you sing the lead?

3. Do you own it? If so is it on that album of your music? I'd love to snag a digital copy for my own pleasure at some point before I die.

That's it! Feel free to answer if you want. I won't be offended if you don't.

Take care,

Adam C. Kooyer
Golden Valley, MN
And his response…
From: Larry
To: "Adam Kooyer"
Date: Wed, 11 Apr 2007 14:24:12 -0700

Subject: RE: Blue Future

Thanks for the note. Interesting story on that. As I was thrilled that they put it in the film, the music producers that controlled the soundtrack called with this good and bad news. Bad news: There are too many big name artists, and you will NOT be included on the "Dream A Little Dream" soundtrack! Good news: "We'll put it on the B side (back in 1989 they still had vinyl singles) of the "Rock On" single. I had the last laugh as "Rock on" went to #1, and I got paid the same as the A side for record sales…making more $$ than anyone involved on the actual album. Not even sure I still have a copy of it…but if I locate it…I'll send it off to you! Thanks for enjoying one of my all time favorite compositions. I did song it & used a few of my friends and studio guys to back me up and brother Tom was actually the other 1/2 of Blue Future. He now runs Studio City Sound (see: www.studiocitysound.com). We also just re-did Teen Witch a music film we did in the 80's and it's rocking. Check out www.myspace.com/teenwitchthemusical! thanks again!
---
Another update! 5/10/07
Someone has requested that they lyrics be posted to this entry. So here it goes…
Where is She – Blue Future
Written by: Larry Weir
———————-

Where is she?
Where is she?
I've been looking night through dawn.

Where is she?
Where is she?
I've been searchin' on and on…

And I've been lookin' a lifetime
Just to find her
You don't know…

And I've been hurting for so long
Well it's starting
Now to show…

Where is she?
Where is she?
I keep waiting for a call…

Where is she?
Where is she?
I keep pacing down the hall…

And maybe it's an illusion
That keeps sayin',
"That's the one…"

Maybe it's just confusion
That keeps playin'
When I know that there is no one…

[Chorus]

Where is she now?
I don't know–oh…
Where is she now?
I don't know–oh…

Maybe I have been hiding
In another state of mind?

Could it be I could find her
in a moment–but I just won't take the time?

I've been searchin' on and on
I've been lookin' night through dawn
I don't know… (Where is she now)

I've been waiting for her call
I've been pacin' down the hall
But I don't know–oh!

Where is she?
Where is she?
UPDATE: 4/13/2008
A Year later. Today I obtained a cassette single of Rock On. I imported it and I think I've come up with an even CLEANER copy of the single.